2021 Jaguar F-PACE Dimensions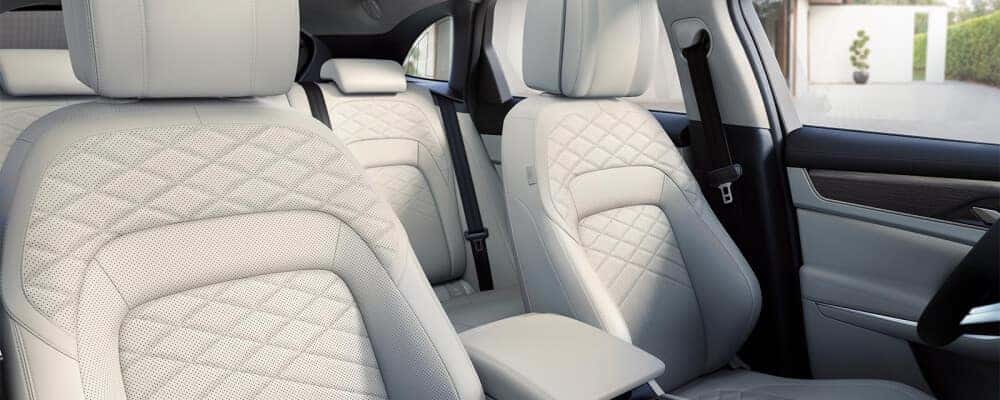 Whether you look toward its cargo dimensions or to the space that it offers your passengers, it's clear that the new Jaguar F-PACE SUV is something special. Unlike many other vehicles which fall into its 'compact' class, the Jaguar F-PACE dimensions leave nothing to be desired!
Seated up front or in the rear, you'll be able to spread out, relax, and bask in the cabin's luxurious finishes. Still, you shouldn't just take our word for it. Get up close and personal with the F-PACE dimensions by reading on!
Jaguar F-PACE Dimensions: Interior
Without ample space for your passengers, even the most splendidly equipped luxury SUVs will fail to satisfy your friends and family. Although the F-PACE has been designed, first and foremost, with the driver in mind, even adult passengers will be able to get comfortable inside:
Jaguar F-PACE Passenger Space
Headroom (with Standard Roof): 39.65 inches (1st) / 38.46 inches (2nd)
Headroom (with Panoramic Roof): 37.80 inches (1st) / 37.48 inches (2nd)
Legroom: 40.28 inches (1st) / 37.17 inches (2nd)
While the headroom in this SUV is guaranteed to please, those who choose this model will be especially impressed with the Jaguar F-PACE boot space dimensions–especially if they're cross-shopping compact SUVs.
Jaguar F-PACE Cargo Dimensions
The latest F-PACE has a towing capacity of 5,291 pounds and a roof carrying capacity of 165 pounds. Even so, you certainly don't need to hook up a trailer or break out the tie-downs in order to conquer your Phoenix and Gilbert to-dos.
Configurable split-folding rear seats come standard, and the accommodating Jaguar F-PACE cargo dimensions are as follows:
Cargo Volume (Behind Second Row) – 31.5 cubic feet
Cargo Area Length (Behind Second Row) – 39.57 inches
Cargo Volume (Behind First Row) – 69.1 cubic feet
Cargo Area Length (Behind First Row) – 71.81 inches
Cargo Area Height – 29.57 inches
Cargo Area Width – 42.95 inches
Cargo Area Width (Between Arches) – 41.26 inches
Although the F-PACE is slightly more spacious than this all-electric sibling, we think that fans of the F-PACE will appreciate the Jaguar I-PACE interior, too.
Jaguar F-PACE Dimensions: Exterior
Exterior dimensions are a crucial consideration for discerning Tempe-area drivers. After all, they don't just affect performance. They also determine how your vehicle will fit in a garage, and how easy it is to park or maneuver on city streets. Here are the specs you need to know:
Exterior Height – 65.51 inches
Exterior Length (Bumper-to-Bumper) – 186.89 inches
Width (with Mirrors Folded) – 81.54 inches
With (with Mirrors Out) – 85.63 inches
Front Wheel Track Width – 64.57 inches
Rear Wheel Track Width – 65.18 inches
Wheelbase Length – 113.15 inches
See the F-PACE in Person at Jaguar Chandler
Whether you prefer to shop online or in-person, Jaguar Chandler is your source for new Jaguar F-PACE SUVs. Let us know how you'd like to proceed after exploring our new vehicle specials online!
More from Jaguar Chandler
If you've ever encountered a new Jaguar F-TYPE on the roads of Chandler or Phoenix, then you already understand the appeal of its exterior design and its engine roar. But what can you expect from the 2022 Jaguar F-TYPE interior? Whether you opt for the coupe or the convertible, you'll enjoy a spacious, smartly-designed…

The 2022 Jaguar F-TYPE R shoots from 0 to 60 mph in just 3.5 seconds. Whether you opt for the coupe or the convertible, you'll enjoy a truly invigorating performance that will revolutionize your daily drives. In fact, even this year's most accessible F-TYPE models can reach blistering speeds in the space of a few…

Drivers in the Phoenix area have every reason to get excited about the 2022 Jaguar F-TYPE. The latest model abandons yesteryear's four- and six-cylinder engine options, and now starts you off with an incredibly potent 444-hp V8. And, if you're looking for even more impressive 2022 Jaguar F-TYPE specs, a 575-hp V8 awaits you at…